In English
Refereed / Blind Reviewed Articles
2023
"Tara and Razieh Goudarzi" in 50 Key Performance Artists, A Handbook ed. By Adriana Disman and Nikki Cesare Schotzko, Routledge, in print.
2022
"Rebels and Revels: Exhibit Curation as Pedagogy in the Study of Theatre of the Middle East." Critical Stages, with Kelley Holley and Q-mars Haeri, under print.
2021
"2020 ATHE Conference Middle Eastern Theatre Focus Group

Roundtable: Pedagogy and Absence" with R. Esfandiary, Michael M. Najjar, S. Al-Saber, et al. Theatre Topics 31:1.

2019

2018

"Mystic Lear and Laughing Hamlet: Critical Cultural Dramaturgy in the Iranian Appropriations of Shakespearean Tragedies" with Amin Azimi. Asian Theatre Journal 36:1.

"Desacralizing Whispers: Theatrical Counter-Conduct in the Iranian War Theatre." New Theatre Quarterly 34: 3, Cambridge University Press.

2018

2016

2013

"B for Badan, Blessed and (B)othered: the Counter-Sacred in the Iranian Theatre of War."  Ecumenica: Performance and Religion 11:2.

"The Politics of Festival Performing and Conforming." The Drama Review (TDR). Issue 229, 79-92. Impact Measures: #2 in Drama and Theatre Arts (2017 Google Scholar Metrics).

"We Lived, We Wrote, in Tehran, in Toronto: My Critical Memoir of Her Prison Memoir," alt.theatre: Cultural Diversity and the Stage, Vol. 10: 3. 11-13.
Book Chapters
| | |
| --- | --- |
| 2022 | "Walking Backward on a Global Tightrope: Interview with Nassim Soleimanpour about the Virtual Performance of White Rabbit, Red Rabbit." Teaching Performance Practices in Remote and Hybrid Spaces, Routledge, ed. Jeanmarie Higgins and Elisha Clark Halpin. |
| 2022 | "White Rabbits of Wonderland: Scenes from Translating and Teaching of Persian Theatre." The Routledge Handbook of Persian Literary Translation, ed. by Pouneh Shabani-Jadidi, Michelle Quay, and Patricia J. Higgins. |
| 2019 | "Moments of Encounter: Iranian-Canadian Immigrant Theatre" with Art Babayants. Performing Canadian Frontiers: Theatre and (Im)Migration, ed. by Yana Meerzon. Playwright Canada Press, 2019. |
| 2014 | "Dramaturgy in Post-revolution Iran: Problems and Prospects," Routledge Companion to Dramaturgy, ed. by Magda Romanska, London: Routledge. 68-74. |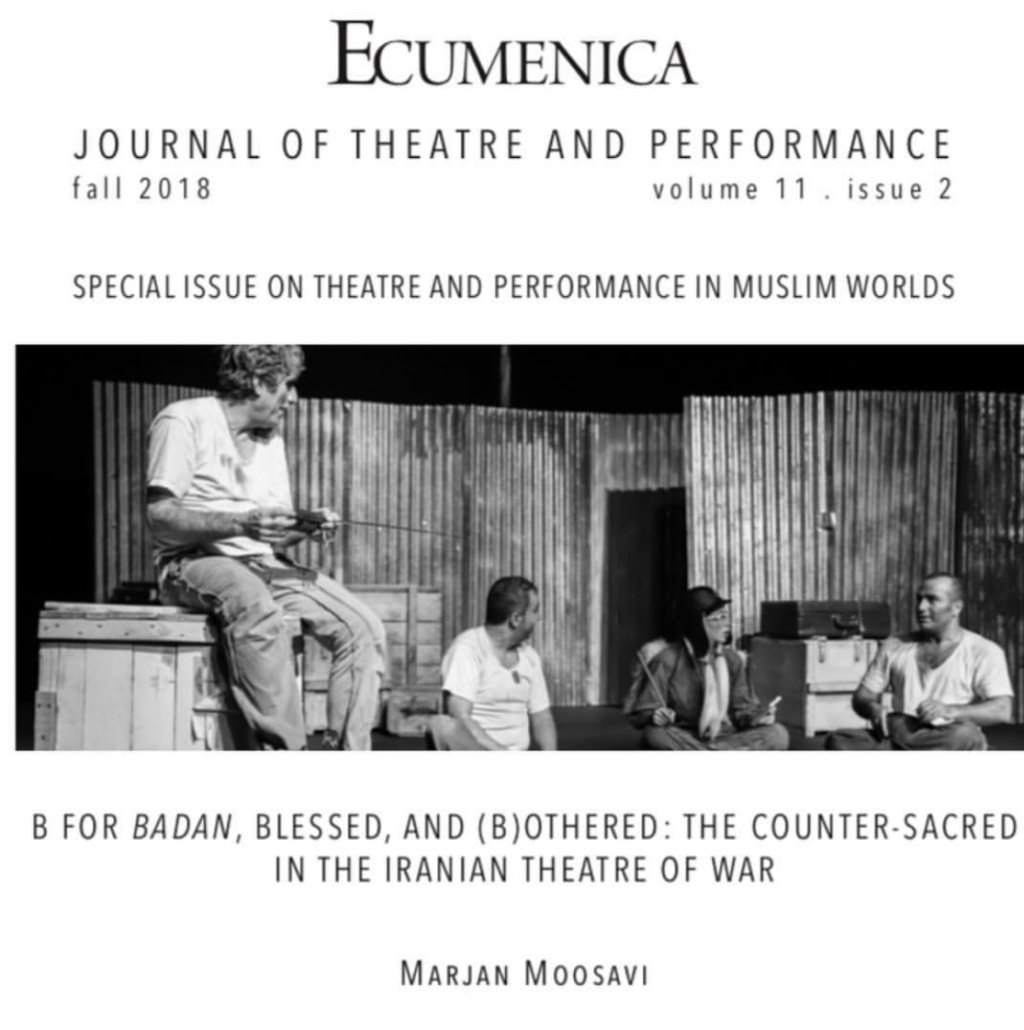 Interviews
| | |
| --- | --- |
| 2019 | "Amal Means Incurable Hope: An Interview with Rahaf Fasheh on Directing Tales of A City by the Sea at the University of Toronto." Arab Stages, Vol. 10, Spring 2019. |
| 2017 | Iranian Theatre, Its Discontinuity and Discontent: An Interview with Amin Azimi, Part I and Part II, TheTheatreTimes.com. |
| 2014 | Interview with Mohammad Yaghoubi, Acclaimed Iranian Playwright and Director, TheTheatreTimes.com. |
Book Reviews
| | |
| --- | --- |
| 2017 | Review of Inside/Outside: Six Plays from Palestine and the Diaspora ed. by Ismail Khalidi and Naomi Wallace, Critical Stages (The IATC webjournal) Issue No. 15. |
| 2016 | Review of Political Performance in Syria: From the Six-Day War to the Syrian Uprising by Edward Ziter, Critical Stages (The IATC webjournal), Issue No. 14. |
Web-Based Publications
| | |
| --- | --- |
| 2016 | Thirteen news and featured articles on Iranian theatre, TheTheatreTimes.com (list is available upon request), link to the list |
In Persian
| | |
| --- | --- |
| 2018 | Translation of Our Town by Thornton Wilder. Ney Publication, Tehran, Iran (first published in 2008 by Rokhdād-e No, Tehran, Iran) |
| 2008 | Translation of Rabbit Hole by David Lindsay-Abaire. Rokhdād-e No, Tehran, Iran |
In Japanese
Translation into Persian
| | |
| --- | --- |
| 2020 | Our Town by Thornton Wilder. Nashr-i Niy (Ney), Tehran, Iran. |
| 2008 | Rabbit Hole by David Lindsay Abbair. Rukhdād-i Nu, Tehran, Iran. |